What is Literacy?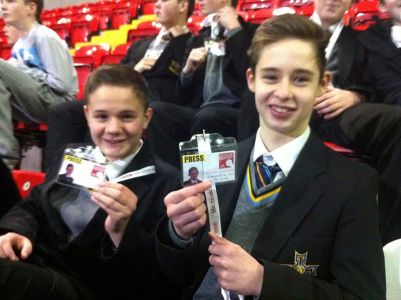 Ronan McNulty and Owen Brophy experiencing the atmosphere at Solitude.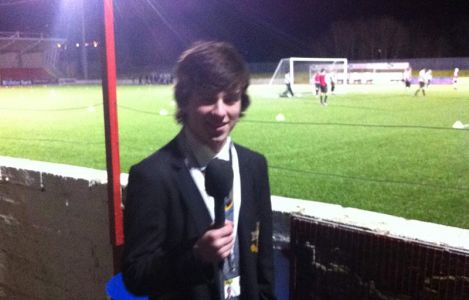 Rory McFadden reporting live for Edmund Rice College on "The Reds'" treble winning season.
Literacy is the ability to read, write, talk, listen and understand both written and spoken information.
The main aim of literacy in school is to enable our boys to develop as individuals who have the ability to think for themselves and to make informed decisions which will stand them through their entire life.
Literacy is an essential part of the whole school curriculum in EdmundRiceCollege and all subjects aim to promote Literacy skills amongst the boys. Plenty of extra curricular activities are also available for pupils to become involved in.
What's offered in School?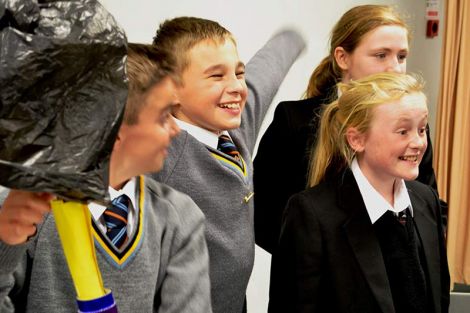 Year 8s getting involved in a literacy project.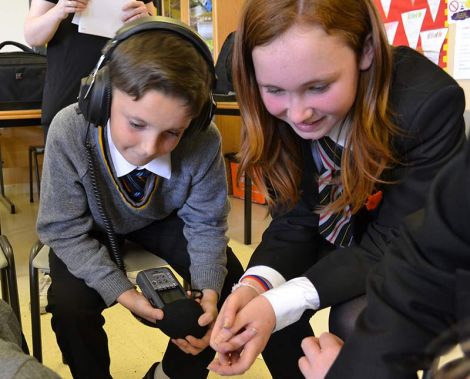 Reporting some breaking news.
Literacy Hour
The 'Literacy Hour' in school takes place under the guidance of Mrs Cust, Miss McQuaid, Mrs Gray and Mrs O'Connor. During each 'Literacy Hour' there are several classroom assistants on hand to provide any extra support needed. 6th year mentors are used with the pupils to help develop their literacy skills and self esteem.
Pupils are given one hour per week in the library and a multi- sensory approach to reading, writing, talking and listening is used. We have found that pupils are more willing and ready to learn as Literacy is not strictly just a classroom subject.
This is what a Year 8 Pupil has to say about the Literacy Hour
"I like going to the library for Literacy with Miss because we get to read books that we like and are able to talk about them with our friends. I really like the drama that we get to do during Literacy Hour".
This is what Mrs O'Connor has to say:
"Literacy Hour at ERC offers a learning environment in which the boys can make the transition from primary to secondary school. It is a power hour focusing on essential skills to give the boys access to all areas of the curriculum".
Sixth Year Mentors
The Literacy Department makes use of the trained peer mentors that we have in school. The peer mentors for literacy this year are Aaron Cellaghan, Matthew McHaffie, Ryan Rafferty and Eamon Russell.
Extra Curricular Activities
This year the pupils will be involved in the BBC School Report. The topic for this year is yet to be decided. Last year we focused on the role of Sport in the school. We produced a news report from Solitude and interviews Gerard Lyttle and Conor Devlin.
Pupils from Year 8 took part in a media journalism project with the charity Headliners and Glengormley High. Pupils explored in detail the issue of self, identity and community. They produced a radio podcast of their opinions. This project helped to build both their talking and listening skills and also their social skills and self esteem.
Parents
The evidence about the benefits of parents being involved in their children's literacy activities is overwhelming. In EdmundRiceCollege we have found that when parents become involved in the learning process pupils are much more able to adapt and learn.
Helpful Websites
www.literacytrust.org.uk
www.bbc.co.uk/schools/parents/literacy_maths
www.rif.org/
www.med.umich.edu/yourchild/topics/reading