I.T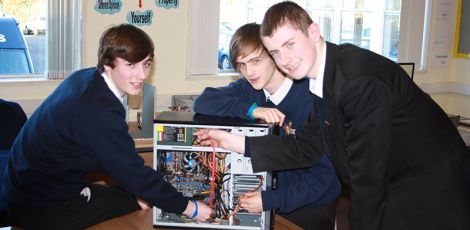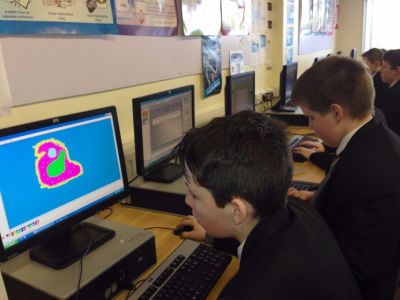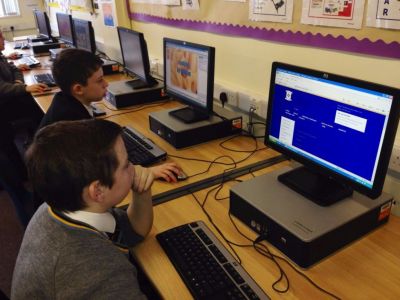 Department Members
Mr. S. Hanna
Mrs M. Johnston
Mr. J. Courtney (Technician)
The guiding ethos of the IT Department is to support all members of the school community in becoming confident ICT users through;
the provision of a common platform which is accessible College-wide
staff having a continued focus on ICT in their own professional development
a comprehensive ICT curriculum being offered to all pupils,
the promotion of interactive learning.
The role of the ICT Department is to provide pupils with the skills and experiences which are core to their development as ICT users. These experiences will be enhanced through the use of ICT in other subject areas as pupils become confident, competent, autonomous users of Information and Communication Technology.
Key Stage 3
Each student within key stage 3 receives one formal period of ICT each week in year 8 and 10 and two formal periods per week in year 9. Students follow a structured three-year programme, which is designed to provide the pupils with the skills necessary to use the information technology facilities provided in all of their other subjects. This formal period compliments the work carried out in the other subjects and the work produced is submitted for the CCEA ICT assessment scheme.
Each Student will study:
Microsoft Word
Microsoft Excel
Microsoft PowerPoint
Microsoft Access
Practical use of Internet facilities
Web Page Design
E-Mail
Computer Hardware
Digital Photography
The programme is practical in nature and each year builds upon and develops the skills taught in the previous year. At the end of the third year students can elect to study ICT at GCSE level.
OCR Nationals in ICT Level 2
GCSE Study
Those studying in preparation for employment in the Information and Communication Technology sector particularly in job roles where they will be expected to use ICT skills. This qualification also provides a progression route to the OCR Level 2 National Award in ICT, A Level ICT.
All units are centre-assessed and externally moderated by OCR. There are no timetabled exams for this qualification. The full award and units from this qualification are graded as Pass, Merit or Distinction. These represent grades A to C at GCSE level.
Unit One
By completing this unit candidates will develop the ability to create files in different software packages, including word processing or DTP, spreadsheet, database and presentation software. They will communicate effectively using email and will search the internet efficiently for information. Candidates will be able to show that they understand:
good working practices, including the organisation of files using appropriate file and directory/folder names and the regular backing up of files
features of email software
methods of searching for information on the internet
methods of integrating different types of files into a document or presentation
the appropriate software to use for different tasks methods of storing, retrieving and analysing data.
Unit 2
By completing this unit candidates will develop knowledge relating to the planning and creation of a multimedia website that is fit for purpose. Candidates will develop the skills to plan, design and implement a simple website using appropriate software.
They will develop an understanding of common concepts and features relating to the creation of webpages, webpage formatting and website structure. They will be able to format the pages to create a house style, including creating hyperlinks, tables and forms. Candidates will also develop skills to include interactive elements, where appropriate. Candidates will be able to:
design a multimedia website
create a multimedia website
create hyperlinks
create interactive elements
create a user form for capturing user feedback
test a website and act on the findings
evaluate a website they have created.
Unit Three
By completing this unit candidates will develop knowledge and understanding of how data logging can be used in a variety of situations. Candidates will be able to:
investigate an application of data logging
investigate the hardware used in data logging
set up and carry out an investigation(s) using data logging
evaluate data logging activities.
Students will use the following software packages to complete this course:
Unit One ICT skills for business
Standard OS (eg Windows, OS X)
Web browser (eg Internet Explorer, Netscape, Firefox, Opera)
Email software (eg Outlook, Eudora, any web-based client)
Presentation software (eg PowerPoint, Matchware Mediator)
Word-processing software (eg Word, Lotus WordProf) OR DTP software (eg
Publisher, Serif PagePlus)
Spreadsheet software (eg Excel, Lotus 1-2-3)
Database software (eg Access, Filemaker)
Unit 2: Webpage creation
Web-authoring software (eg Dreamweaver. FrontPage, Serif WebPlus, Netscape Composer, NVU)
Unit 3: Application of data logging
Data logging program (eg Datadisc PT)
Dedicated data loggers (eg Logbook ML)
Sensors (eg temperature, light, pH, sound, dissolved oxygen, light gates, magnetic field strength, position, force, pressure, angular position, distance, ECG, current, humidity, pulse)
Standard laboratory equipment (to conduct experiments)
OCR Nationals in ICT Level 3
Post 16 Study
The OCR Nationals suite of qualifications provides students with high quality, industry-relevant qualifications geared to the specific requirements of the IT industry. They are vocationally-related qualifications that provide valuable opportunities for students to develop skills and gain underpinning knowledge and understanding which will support entry into work that is IT related or progression to University. The OCR Nationals are attractive, practically-based qualifications intended to stimulate and interest students.
Each unit within these specifications is designed around the principle that candidates will build a portfolio of evidence relating to progression towards meeting the unit assessment objectives. There are six units in total which are selected to stimulate interest and provide the foundation needed for University courses which either in part of in total have an IT focus. The six units selected are listed below.
Digital Business Communication
Appropriate Web browser (eg Internet Explorer, Netscape,
Firefox,Opera)
Email software (eg Outlook, Eudora, any web-based client)
Presentation software (eg PowerPoint, Matchware Mediator)
Word-processing software (eg Word, Lotus WordProf) OR DTP software (eg Publisher, Serif PagePlus)
Collaborative working
Appropriate software for collaborative working (eg email,
chatrooms, VLEs, Instant Messaging (IM), online whiteboard)
Internet
Search engines
Problem solving
Spreadsheet software, MS Excel
Google Docs
Digital imaging and photography
Graphics software (eg Fireworks, Serif DrawPlus and PhotoPlus, Photoshop, Paintshop Pro)
Web authoring
Web-authoring software (eg Dreamweaver. FrontPage, Serif WebPlus, Netscape Composer, NVU
Web browsers
File exchange programs (eg ftp)
Creating a digital showcase
Multimedia software (eg PowerPoint, Matchware Mediator,
Flash)
These qualifications aim to:
develop your knowledge and understanding of the ICT sector and the chosen specialist pathway if selected
develop your skills, knowledge and understanding in contexts that are directly relevant to employment situations, thereby enhancing your employability within the ICT sector
develop your ability to work autonomously and effectively in an ICT context
enable you to develop knowledge and understanding in specialist areas of ICT, and demonstrate the skills needed to participate in the operation and development of real ICT organisations
encourage progression by assisting in the development of skills, knowledge and understanding that you will need to access places at University of Colleges of Further Education