Drama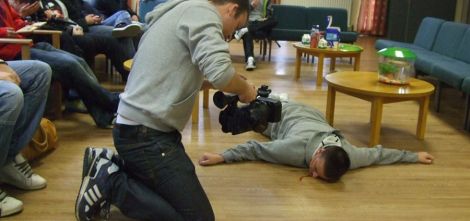 Teachers:
Mrs M Cust (HOD)
Mrs C Gray
Mrs J Kennedy
Ms Sarah McGoldrick
Subject overview
Drama offers a unique, exciting and valuable contribution to the curriculum. It has value, as a cross curricular subject and can greatly build confidence of all our pupils. The drama classroom provides opportunity for students to develop skills in communication and empathy, whilst supporting students in understanding concepts and characters in other subjects. All pupils have the opportunity to study Drama at KS3.
KS3: Drama at KS3 is a popular subject! It provides the students with the opportunity to develop their practical, exploratory and expressive nature. Classes are bursting with energy and enthusiasm as to which concept we are exploring this week. Activities range from drama warm-up games to improvisation and whole class productions.
Ks4: At GCSE Pupils follow the CCEA Specification:
Externally assessed Component (40%)
Paper 1
Section A
Candidates will be required to answer 3 questions on one of the set texts.
Section B
Candidates will be required to answer one question relating to the text studied in Compulsory Internally Assessed Unit 1: Scripted Performance.
Internally Assessed Component (60%)
Three Assessment Units must be offered for summative assessment. One compulsory Unit (Scripted Performance) must be offered. Two additional units must be offered from the list below:
devised performance
improvisation
dance drama
mime
practical exploration of the set text
Society and the workplace require confident, effective communicators with the ability to be creative leaders. CCEA's Drama qualification affords students the chance to make these aspirations a reality.
There are many career options available to pupils who choose Drama as a GCSE option. There are many talented young actors within the college that have aspirations of pursuing Drama as a career option.
Trips: At GCSE the boys attend a theatre production of the set text 'Blood Brothers' by William Russell. Students have also attended Cinemagic events. Cinemagic is an Northern Ireland based organisation which hosts the largest film events of its kind for young people in Ireland and the UK. Pupils received the 'red carpet' treatment at the premiere of 'Narnia' where they got to meet Northern Ireland's finest export, Liam Neeson!
Competitions: The students made their own movies with the help of Hollyoaks stars, Matt and Darren. This won an award which was presented to them at a prestigious event at Belfast's Waterfront Hall which was attended by many famous faces.
Extended Schools: Edmund Rice has recently teamed up with 'Belfast Youth in the Arts.' This gives the students the opportunity to work alongside industry professionals in order to stage 'West Side Story' for one week in the Waterfront Studio.
Edmund Rice has a Drama Club that is enjoyed by many students across the school, giving them the opportunity to meet new friends, have fun and be creative.